Montering af "tun cylinder" på 2-g. Kreidler?

:
onsdag, 22. februar 2006 22:20
Mange spørger stadig, og derfor havner emnet under FAQ. Jeg minder endnu en gang om, at kørsel med denne opsætning naturligvis er forbudt på offentlig vej.
Der findes 2 standardtyper studs, der passer for Bing 14, 16, 17 og 18mm Bing karburator, en krum for cylinder med vandret placeret indsugning (svarende til typen der er monteret på den 3-gears Florett DK) og en lige, for cylinder med "skrå" indsugning. Sidstnævnte findes i to længder, den længste for 5,3-5,8hk og den kortere for 6,25 hk cylinder.
Ingen af dem kan umiddelbart benyttes på den 2-gears Kreidler, grundet stellets konstruktion, til glæde for myndighederne og til sorg for ejerne.
Det kunne være én af grundene til, at modellen ikke blev særlig populær i hjemlandet Tyskland, men, med tuning for øje, burde det også være tankevækkende, at den dernede lanceredes som en "konfirmand-knallert" med en tophastighed på 25km/t, og at den, så vidt jeg ved, er den eneste Kreidler, der ikke også kunne leveres i en udgave for 40km/t.
Hvis det ellers er rigtigt, skyldes det formentlig stellets spinkle konstruktion?
En 2,9 hestes cylinder kan imidlertid monteres problemfrit med den originale DK studs og en 10mm Bing karburator. Indgrebet giver maskinen en tophastighed på omkring 55 km/t., og det er nok den hotteste opsætning, jeg selv ville bryde mig om at benytte, ikke mindst fordi min bagdel ved denne hastighed, trods den udæmpede affjedring, stadig opretholder en bare rimelig kontakt med sædet, på en forholdsmæssig plan vej.
Er man imidlertid træt af livet, er alt muligt, også at køre stærkt på en 2-gears Kreidler.
Under alle omstændigheder skal studs/karburator problemet løses, UDEN, som jeg desværre har set, at save i stellet!
Montering af en Dellorto karburator af UB typen, der med justérbart svømmerhus kan monteres (næsten) uafhængigt af studsens vinkel, kan ofte afhjælpe problemet.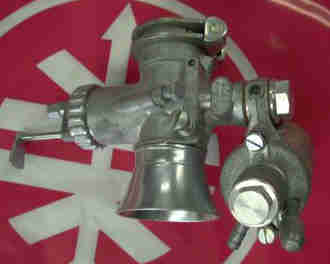 Med lidt fantasi og hjemmesnedkeri kan to 18mm studse for standardkarburator også kombineres, så karburatoren går fri af stel og motorhus. (Husk at pakke samlingerne omhyggeligt, evt. med supplement af flydende pakning).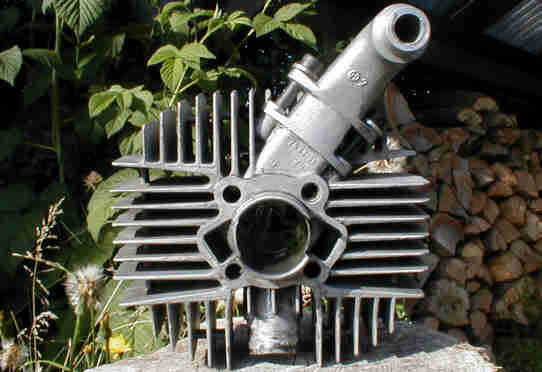 Selv om man får skruet alt passende sammen, er der imidlertid endnu et forhold, som, udover det sikkerhedsmæssige, nok gør det uhensigtsmæssigt overhovedet at ofre så mange anstrengelser og penge på at peppe en 2-gears motor voldsomt op.
2. gears udveksling ligger et sted mellem 2. og 3. på en 3-gears motor, og det betyder, at du vil komme til at køre med en hulens masse omdrejninger.
Man får ganske givet et godt optræk, men den lave gearing vil også i sig selv give en begrænsning i tophastigheden, så er det egentlig umagen værd? 3 gear må anses for at være minimum for at køre "voldsom Kreidler", eller udtrykt på fynsk:
Ve' du kør' Kreidler mæ spjæt i, så' det bedst og sikrest på Floretti!